The world's first SMART LASER
Introducing the Platinum 4 Smart Laser.
The Platinum 4 Smart Laser by K-Global changes all the expectations of Class IV therapy lasers by delivering expert clinical treatments, an unparalleled user experience and innovative practice success tools. See for yourself how the Platinum 4 stands alone as the world's first smart laser and how it can help your practice succeed.
Powerful. Connected. Intelligent.
The Platinum 4 Smart Laser delivers the optimal mix of power, wavelengths, pulsing and expert protocols to ensure the best possible treatment outcomes.
– 24 Watts: More power, shorter treatments, faster results!
– 4 Wavelengths: Provides the broadest array of tissue stimulation and penetration (650nm, 810nm, 915nm and 980nm)
– Streamlined Treatment Protocols: Designed and tested by Veterinarians for Veterinarians
– 1 to 20,000 Hz pulsing range & super pulsing (ISP)
– 3 removable tips. 35mm Broad Beam, Contact Lens & ENT Tip
– Homogeneous Beam Profile: Delivers the most consistent and safest application.
Performance Tracking App.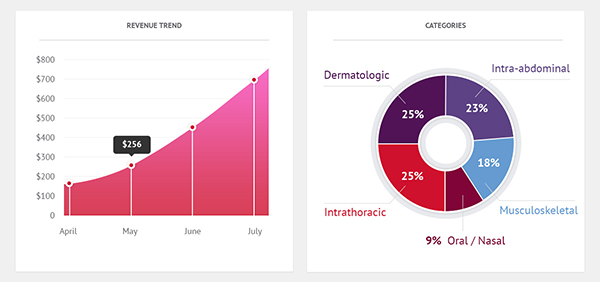 The Platinum 4 includes a Performance Tracking App that provides detailed information about how you are using your laser. No other therapy laser can provide you with this level of insight to maximise your return on investment.
With the Performance Tracker App you can:
– Display the number of treatments by species and condition
– Calculate the revenue you have generated
– View patient profiles
– Filter by laser user and time period
| | |
| --- | --- |
| Positive Effects of Laser on the Body | Benefits to Animals |
| Improves and promotes healing | Faster patient comfort |
| Relieves pain and reduces spasm | Deep penetration |
| Increases joint flexibility | Delivers more laser energy to the target issues |
| Reduces symptoms of osteoarthritis | Shorter treatment times |
| Improves peripheral microcirculation | Shorter patient recovery time |
| Detoxifies and eliminates trigger points | |
Heat Management
High internal temperature can destroy laser diodes and electronics, resulting in significantly reduced power output and irreparable damage to the laser.
Platinum 4's Advanced Thermal Management System delivers:
– Liquid Cooled, Copper Design: For faster heat transfer compared to air-cooled aluminum.
– Closed System: Heat is managed consistently throughout the life of the laser.
– Whisper Quiet Fan
Platinum 4 Design Innovations
Platinum 4 is designed with the highest quality materials and state-of-the-art technology to deliver the best therapeutic laser and user experience.
Some of Platinum 4's design innovations are:
– Wi-Fi Performance Tracking App
– Over 1,300 expert treatment protocols
– HD touchscreen with 6-core processor
– Liquid cooled thermal management system
– 4-layer gold coated circuit boards
– 3-layer fiber optics
– High powered multi wavelength solid state laser diode module