Datalys V5 – Big or small, we've got you covered!
The Datalys V5 is a small versatile veterinary patient monitor with advanced features. Highly mobile and user friendly, it is the perfect addition to any veterinary office. Depending on the specific needs of the veterinarians, the V5 can be customized from 3 parameters to a robust 9 parameter vet monitor. Special software enhances sensitivity to pick up vitals from even small exotic animals. Redesigned user interface offers a beautiful and clear display of data and waveform. Used with Lutech's E-probes to reduce the amount of wires attached to the animal during monitoring or surgery.
Calibrated for sensitivity, the Datalys V5 will easily pickup signals from kittens, puppies and small exotic animals.
Vet specific algorithms provide enhanced accuracy of data no matter how small or how big the animal.
Brand new crystal clear 8.4″ interface
A beautifully re-designed user interface to launch you and your practice into the 21st Century!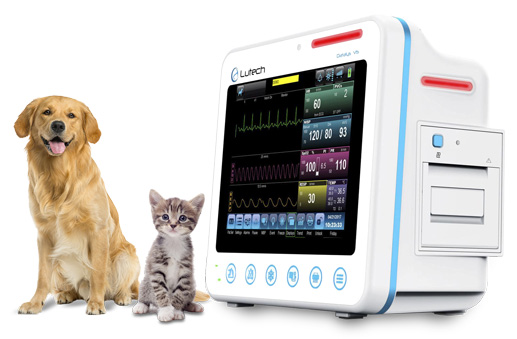 STANDARD PARAMETERS

OPTIONAL PARAMETERS

Nellcor SpO2
NIBP
Respiration
Temperature
Printer
IBP
CO2
Multi-gas
Accessories that comes with the standard unit includes the following:
1 x reusable ECG cable
1 x set of reusable 5-lead ECG leadwires
1 x set of 5 ECG clips
1 x reusable SpO2 extension cord
1 x reusableSpO2 sensor
1 x small reusable SpO2 lingual clip
1 x large reusable SpO2 lingual clip
1 x NIBP extension tube
1 x set of 5 NIBP cuffs
1 x reusable rectal/esophageal temperature sensor